Karim Campbell
Sustainability Development Engineer
AB Sugar, Peterborough, UK
The Faces of AB Sugar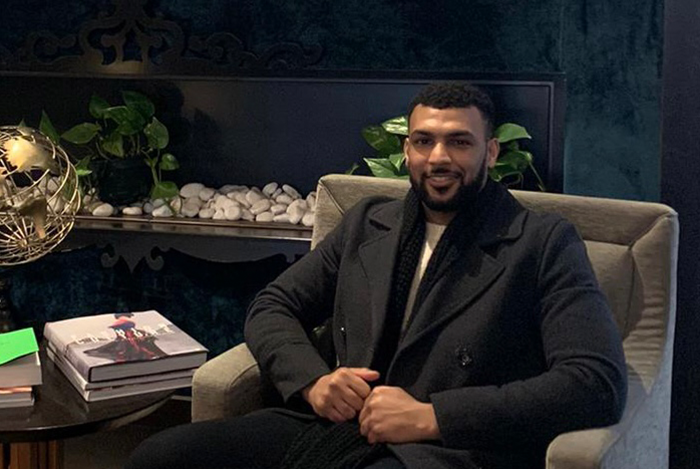 Still relatively early in his career, Development Engineer Karim is enjoying life at AB Sugar and the range of opportunities he's been exposed to. We spoke to Karim about what motivates him, what he's learnt in his time within the business so far, and how he's already giving back and looking to inspire the next generation of engineers.
What appealed to you about a career in Chemical Engineering?
"Going into engineering for me was a relatively late decision. I sat in on a talk at a university open day and realised Chemical Engineering was a great fit for me as it brought together the A Levels I was studying – Biology, Chemistry and Maths. The course was challenging but I always enjoyed the practical aspects, especially within my placement year at AB Sugar's Vivergo Fuels plant. What most affirmed that I wanted to pursue a career in engineering is that the work you do uses your knowledge to make a change which often you can see, or at least measure. Any project, engineering or otherwise, is about making a change and that's what motivates me. When I know I have a big piece of work that's different to anything anyone else is doing and makes a difference, I can't wait to tackle it head on and that's what most excites me about going to work each day."
What are some of your career highlights?
"Between my third and fourth year studying Chemical Engineering at Loughborough University, I completed an industrial placement year at AB Sugar's Vivergo Fuels plant in 2017/18. As a Process Engineer Intern in the Continuous Improvement team, I was able to apply the fundamentals from my degree and broaden my knowledge of the Chemical Engineering industry. One of the best parts of working at Vivergo Fuels was the responsibility I was given. I was able to make an impact and add value to the business, working on a project involving the commissioning of an animal feed system. This was my first taste of industry and the first project I'd worked on where I had to consider the commerciality of utilising an asset, as well as the engineering. For some, the project didn't seem very glamorous, as it involved filling trucks with wet animal feed that doesn't look or smell great! I was able to get the system running, producing and loading product into trucks to deliver. The success of the project and positive feedback gave me confidence in my ability. The people I met and relationships I built led to me securing my current role at AB Sugar as a Development Engineer.
"My current role has given me another new opportunity, which is to work on projects from a range of business areas within the AB Sugar group and really understand how an international business such as AB Sugar operates. One aspect of my role I particularly enjoy is looking into potential business opportunities and concepts identified by the businesses, or the Operations & Technology team that I am a part of, which can bring about tangible improvements. I have also been able to tailor the work I do and work in spaces I am interested in, such as sustainability.
"My role continues to offer me opportunities to add value and has supported me in my personal and professional development. In my first month with AB Sugar, I got the chance to travel to one of our Illovo Sugar factories in Malawi. This really opened my eyes to the difference in challenges and opportunities across an international business dependant on geography. It was also a great opportunity to experience a different culture and has enabled me to approach or look at things from different perspectives. I also got the opportunity on my days off to experience some of the exotic wildlife at a nature reserve, getting up close and personal to zebras, elephants, giraffes and more! AB Sugar have also supported me in achieving my APM Project Management Qualification which has really helped me in my role and will do in the future. My career progression is continually supported, and I am now working towards my Lean Six Sigma Greenbelt Certification.
"The networking opportunities have also been a real highlight, connecting with people from AB Sugar and wider ABF businesses around the world. I have worked with all AB Sugar business units and had the chance to work with Primark on a project, as well as connecting with people from other ABF businesses such as AB Agri, George Weston Foods and Westmill Foods.
"Working closely with the AB Sugar Head Office team, including the Group Leadership Team, has given me the chance to build relationships across all levels, which is really valuable for someone in the early stages of their career. I have taken the opportunity to ask for one to ones with some of the Group Leadership Team to ask for advice, learn about their experiences, and talk about some of the work I am doing for AB Sugar. This also inspired me to create an ABF Early Careers Network, where a group of early careers employees invite leaders from across ABF to speak about topics which are important to us as the next generation of ABF employees. This process began with networking with others early in their careers and identifying the value in these conversations. We then broadened the discussions and included more people, then developed a structure so that anyone interested could benefit from the discussions we were having. The sort of exposure you get within this role is valuable for someone early in their career and I look forward to what it may lead to, either within the AB Sugar group, or broader ABF group. In five years, I see myself in a leadership role, managing a team at a head office or a factory, working with people and ideally having some involvement in driving sustainability, as this is one of my passions."
What advice would you give those starting out on their career journey? And who or what most inspires you on yours?
"Believe in your ability and recognise the value you add! Be bold and brave, contribute wherever you can and take on any tasks you have been trusted with no matter how difficult you think it may be. In both my roles I have been trusted with responsibilities and it has been a challenge, but by approaching tasks in a step by step manner, I've been able to achieve more than I may have initially thought I was capable of. The team I'm part of and the leadership at AB Sugar are all much more experienced than I am, so if they believe I am capable of doing something, why shouldn't I?
"But while doing all of this, it's important not to get complacent – I am always thinking about what is next, what more I can achieve, and more efficient ways of doing what I do.
"My Mum has always told me ever since I was young that I was going to be a scientist. She wasn't too far off, considering I went on to study chemical engineering! Because of my love for sport, as a kid I always dreamed of being a professional sportsman, then was close to choosing a sports science related path at University. Had I not picked chemical engineering, I would probably have a job related to physiotherapy and be pursuing a job at a top sports club like Liverpool FC.
"I am a big basketball fan and have played the game since the age of 11. One of my biggest inspirations is LeBron James - not just because he's a great player, but because he uses his success and his platform to give back and raise awareness of issues in society. I don't have the platform LeBron James does, but he has inspired me to start up my own initiatives inside and outside of work where I can challenge issues and give back. His success on and off the court has shown me that you can excel in your day job, but that's not the only thing that is important, and to always remember where you came from.
"I think for me the biggest challenge in my career to date was securing a role in industry. I'm sure my career will present me with many challenges going forward, but when I think about the time I spent applying for placement and graduate roles whilst juggling a demanding degree, this was a real challenge. Being the first in my family to study an engineering course and pursue a career in engineering, I didn't know much about the industry to begin with and learned a lot about securing a job through trial and error. With the knowledge and experience I've developed, I'm now able to give back.
"Outside of work I have set up a Community Interest Company called C&B CareerLink, which focuses on supporting engineering students and graduates from under-represented backgrounds in securing employment in the industry, to offer the next generation the support that I and many others did not have. By supporting and mentoring students, they are better equipped to develop the skills and insights required to secure a job role in their chosen field. It also provides students with role models from backgrounds like them and encourages more young talent to pursue an engineering career, closing the industry's skills gap."